Information with Investment Newspaper reporter, Chan See Chong, General Director of First Solar Vietnam Co., Ltd. said, the company has just received the first batch of solar panel production process. Series 6. This device is the main part of Vapor Transport Deposition coating machine (VTD) – the device is used for semiconductor coating on glass surface.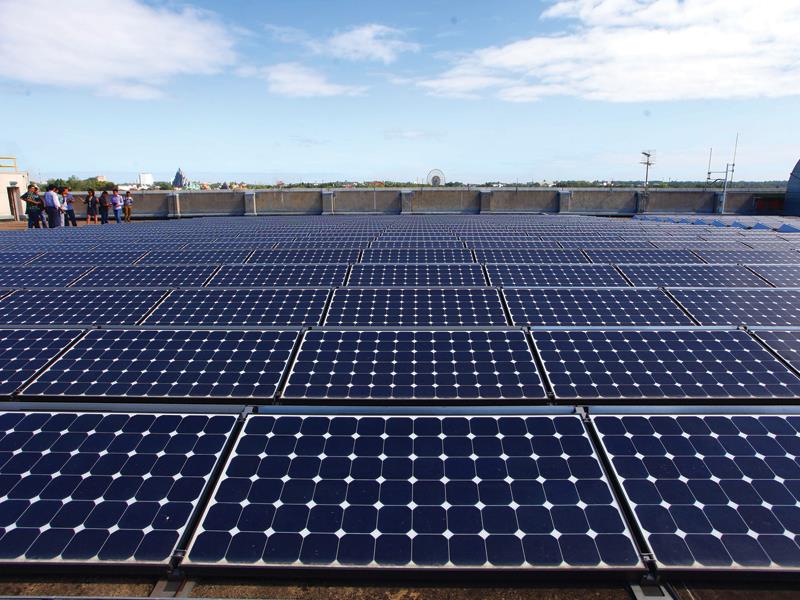 Mr. Chan See Chong said that the Solar Cell Production Project in Southeast Industrial Park (HCMC) has completed the construction of the first factory. Recently, the company invested an additional $ 360 million to build a second factory with a capacity of 1.2 GW.
"The first First Solar plant will produce Series 6 solar modules from the fourth quarter of 2018. When both plants go into production, First Solar's total capacity will reach 2.4 G W / year, "Chan See Chong said.
Information from Ho Chi Minh City Export Processing and Industrial Zones Authority, said that the latest adjustment, the project has increased capital by more than USD 62 million, bringing the total investment to more than USD 1,066 billion. At the same time, investors adjusted the factory's capacity to double, with about 5.31 million modules / year, compared with the initial capacity of 2,655 million modules / year. It is expected that products made here will mainly be exported to the US and European markets.
First Solar currently has 3 main production bases globally, that are in the United States, Malaysia and Vietnam. The Group has decided to invest US $ 1.4 billion in the technology of manufacturing Series 6 solar panels. In particular, the investment for two factories is built in Vietnam, according to First Solar's announcement, is 830 million USD.
First Solar is confident in the competitiveness
There are 2 major technologies in the world to produce solar panels, namely polycrystalline silicon technology and thin film technology. Accordingly, silicon polycrystalline technology is largely produced by Chinese businesses and can supply more than two thirds of solar panels to the global market. The popularity of solar panels with this technology is said to be one of the main reasons why this product price dropped by 80% in the period of 2008-2013.

The project of manufacturing solar batteries in the Southeast Industrial Park (HCMC) has completed the construction of the first factory.

However, according to First Solar's representatives, the production of solar cells Series 6 thin film technology, with many differences, outstanding advantages, will be counterbalancing competition with traditional technologies.
The efficiency conversion index, i.e. from photo-voltaic to electricity, is 18%, even more than 20%. In theory, First Solar can continue to increase the conversion factor. Meanwhile, competitors that produce according to traditional technology still cannot reach this index.
Price is one of the decisive factors in competition. However, this involves not only the cost of solar energy, but also the cost of energy in general compared to other types of energy. Generation 6 technology will meet this problem because of its economy three times higher than traditional technologies thanks to a significant reduction in production costs.
With main weapons being the latest technology and a strong investment in investment for factories in Vietnam as well as in Malaysia, it can be seen that First Solar "bet" for fair competition with competitors biggest.
The new race begins, time will be the most accurate answer for which side will prevail. But one thing is quite certain, the market will benefit from this competition, including solar power projects and customers in Vietnam.
"Vietnam is ambitious towards green energy development, so we hope to meet this expectation. Vietnam is a very new market, we hope that in the future there will be many talks with the authorities and developers, especially real estate developers, developing projects. about solar energy, to learn and meet the expectations of the Vietnamese market", First Solar representative said.
Source: baodautu.vn
Source link: https://baodautu.vn/first-solar-dat-cuoc-du-an-ty-usd-tai-viet-nam-d76856.html