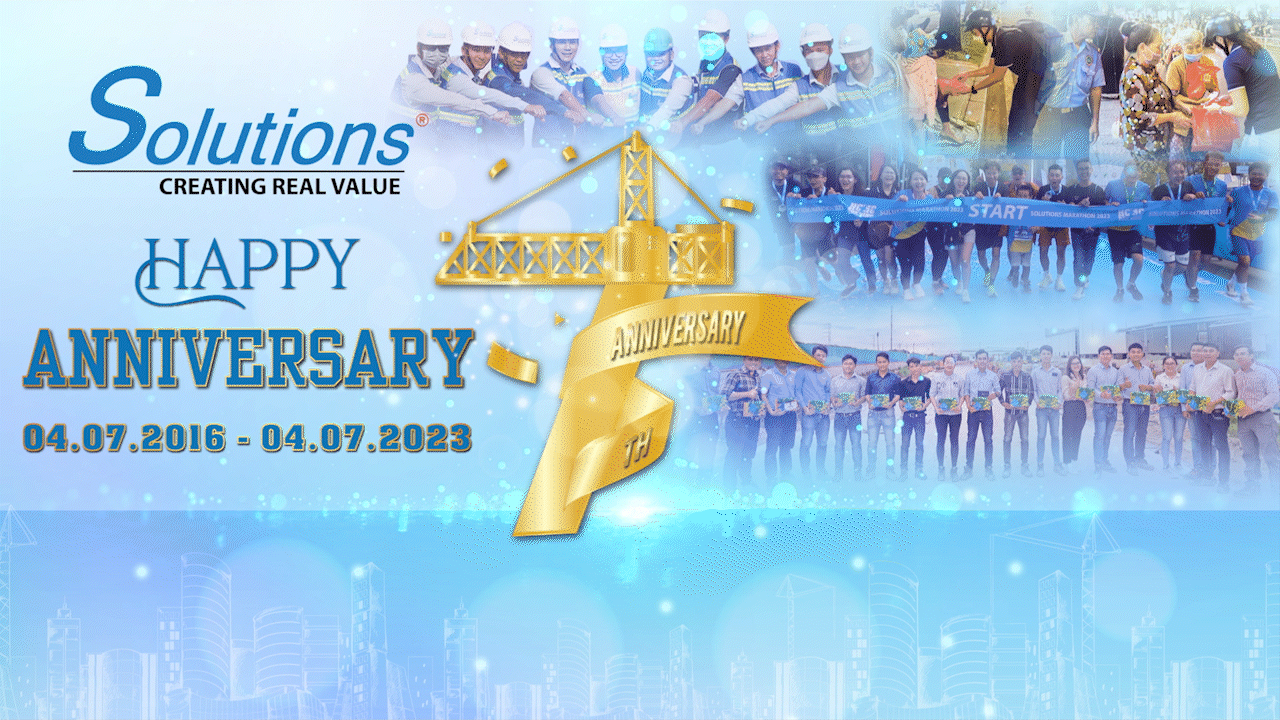 04. July. 2023
SOLUTIONS 7 YEARS OF ESTABLISHMENT
In 2023, the world economy entered a recession with a series of notable events such as strong interest rate hikes by central banks, the construction industry, which had fallen into a state of paralysis and stagnation. Due to restrictions related to the Covid-19 epidemic, and now facing an increase in the prices of materials used in the construction industry, almost all companies are struggling to maintain operations. . In particular, there have been many large companies in the construction industry that had to implement policies to cut wages and reduce payrolls. Faced with this situation, Solutions still maintains its development orientation and vision, the leadership and all employees have made remarkable strides.
Welcoming a new year, the company has completed and handed over many projects such as Van Lang University – Campus 02 (August 2022), Red Bull Expansion (10/2022), Vina Pride Seafoods Factory Extension (11/2022), K4 Warehouse North Commercial Area Tan Thuan Epz (July 2023). Since the beginning of 2023, the company has been continuously trusted by major investors with large-scale new projects including White Palace Convention Center & Wedding, Crystal Elegance Textiles Vietnam, GCP Cement & Concrete Additive Factory, Fleming Factory 03, … with sales of VND 460 billion, reaching the company's 2023 target.
At an extremely difficult time for the construction industry, the company still maintains a salary regime so that employees can take care of their families with peace of mind, ensure their work in the project and devote themselves to the company. Through special milestones, the company is on the right track with the set goals, acting as a launching pad for Solutions and the company's leadership to continue to conquer great ambitions in the near future. upcoming.
Let's congratulate Solutions on turning a new age and look back on the achievements achieved during the past 7 years. Up to now, Solutions is confident to be a reputable and professional company, creating many optimal solutions to meet the needs of customers.
Solutions – Firmly believe – Break through every project!